Overview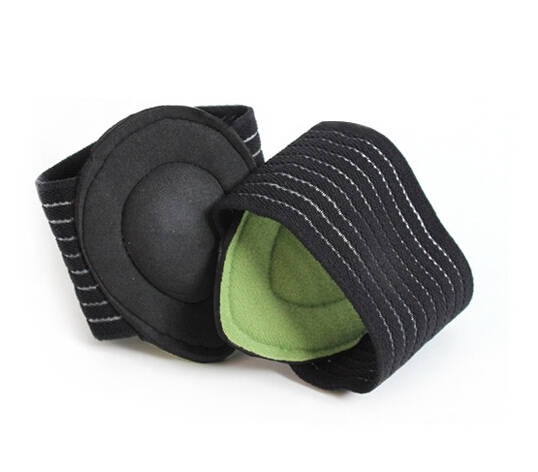 Most people (approx. 60-70% of the population) suffer from excessive pronation due to flat feet when walking, running and standing. Though the foot may appear normal when sitting down, with a clear arch present under the foot, over-pronation becomes noticeable when we stand or walk as a result of weight bearing. The arches collapse with every step we take, and the ankles roll inwards. This is called overpronation, a biomechanical imbalance that can lead to many painful foot conditions such as heel pain, plantar fasciitis, heel spurs, tendonitis, and can even affect other parts of your body such as the knees and lower back.
Causes
As children grow, their legs will experience developmental changes that can result in excess flattening of the arches with weight bearing. One example is genu valgum, or knock-knees, a usually normal, temporary condition in children at different stages of growth. A tight calf muscle or Achilles tendon can also contribute to a flat foot. Many children will experience tight calf muscles as they go through growth spurts. Conditions that are present at birth and are often diagnosed early include: metatarsus adductus, calcaneovalgus and congenital vertical talus. Tarsal coalitions are congenitally fused foot bones that cause a rigid flat foot often associated with painful muscle spasms. This type of flat foot is usually diagnosed later in childhood or in adulthood. Any condition that causes loose ligaments can result in a flat foot or lower-than-normal arch. Ligaments are bands of tissue that connect bones to each other and have an important role in giving form to foot arches. An example of a condition that causes loosening of ligaments is pregnancy, where normal hormonal changes relax the ligaments. Diseases that cause loose ligaments include Ehlers-Danlos syndrome, Marfan's syndrome and rheumatoid arthritis. If one leg is longer than the other, one foot may be flat in relation to the other to compensate. Usually the foot on the longer limb will have a flatter arch in an effort to shorten that limb, balancing-out the unevenness. Leg length inequality can be caused by spinal abnormalities such as scoliosis. It can also be due to an actual difference in length of one leg bone compared to the other.
Symptoms
Many people have flat feet and notice no problems and require no treatment. But others may experience the following symptoms, Feet tire easily, painful or achy feet, especially in the areas of the arches and heels, the inside bottom of your feet become swollen, foot movement, such as standing on your toes, is difficult, back and leg pain, If you notice any of these symptoms, it's time for a trip to the doctor.
Diagnosis
If you notice that your feet are flat, but you?re not really experiencing any pain, then you?re probably okay to go without a visit to the podiatrist (unless, of course, you have a lack of feeling in your foot). You can schedule a hair appointment instead, or maybe see a movie. However, once painful symptoms start to appear, it?s better to skip the hirsute (or cinematic) experience and go see your foot doctor. Your podiatrist will likely make the diagnosis by examining your foot visually, asking about symptoms you may be experiencing, and may test your muscle strength. You may be asked to stand on your toes (in a ballerina pose, if you prefer, although that?s certainly not required), or walk around the examining room, and you may need to show the podiatrist your shoes. He or she may comment on your excellent taste in footwear, but is more likely to check your shoes for signs of wear that may indicate fallen arches. Your podiatrist may recommend X-rays, a CT scan or an MRI in order to get a look at the interior of your foot, although the best diagnosis usually comes from the doctor?s own in-person examination.
fallen arches shoes
Non Surgical Treatment
Foot orthotic devices can stabilize some of the causes of flat feet, optimize muscle function and reduce the occurrence of painful symptoms. Generally, a custom-made semi-rigid functional posted orthotic is effective for flat feet. These devices are prescribed based on a thorough biomechanical examination by a qualified chiropodist/podiatrist. Over-the-counter arch supports may be helpful for mild cases, but often prove ineffective to relieve symptoms associated with flatfoot. Wear shoes with a good fit in the arch. Keep active and fit to strengthen leg and foot musculature. Control body weight to decrease load on the feet. Avoid prolonged periods weight bearing with bare feet. Taping to support strained ligaments and joints. Physical therapy modalities such as ultrasound. Referral for surgical correction a severe symptomatic flatfoot.
Surgical Treatment
Generally one of the following procedures is used to surgically repair a flat foot or fallen arch. Arthrodesis. One or more of your bones in the foot or ankle are fused together. Osteotomy. Correcting alignment by cutting and reshaping a bone. Excision. Removing a bone or a bone spur. Synovectomy. Cleaning the sheath that covers the tendon. Tendon transfer. Using a piece of one tendon to lengthen or replace another. Arthroereisis. placing a small device in the subtalar joint to limit motion. For most people, treatment is successful, regardless of the cause, although the cause does does play a major role in determining your prognosis. Some causes do not need treatment, while others require a surgical fix.